Willamette Mission State Park
At the Intersection of Heritage and Adventure
Woodlands and wetlands. Meadows and cultivated farm fields. And, of course, the Willamette River itself. These are but a few of the defining characteristics of Willamette Mission State Park.
The physical features alone would be enough to justify preserving these 1,300 acres as a state park. But in addition to the varied terrain that makes the park an ideal place for recreation, it also serves to preserve the unique history of this once isolated corner of the Willamette Valley. The park derives its name from the Willamette Mission, one of the first Euro-American settlements in the state. Its historical markers and viewing platforms evoke a time before Oregon statehood. They give us a chance to pause our busy lives and immerse ourselves in this unique and peaceful setting.
An Oregon Lottery-funded grant of $109,000 will help replace the culverts running under the main entrance road to the park. The combination of Oregon's winter rains and the park's riverside location have made the road prone to seasonal flooding. This investment will help keep the park accessible year-round, benefitting visitors for years to come.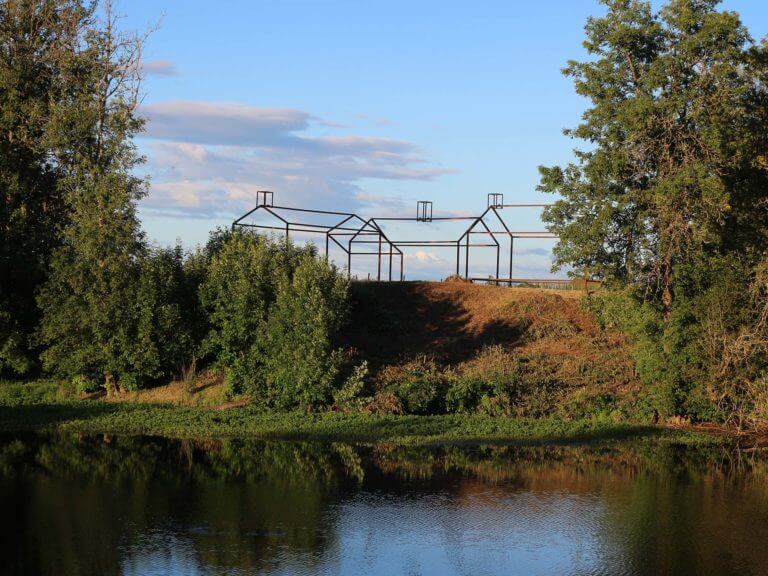 Jason Lee's Methodist Mission
Built in 1834 by Jason Lee and other early missionaries, the Willamette Mission was the first organized religious enterprise in Oregon and one of the first Euro-American communities in the Willamette Valley. Although the site's beauty and natural features are now preserved as a state park, the mission buildings themselves were sadly washed away in a flood in 1861.
Today, a unique "ghost" structure recreates the outline of those long-lost buildings, evoking a sense of the historic features that stood here almost 200 years ago. The structure has become a signature feature of Willamette Mission State Park. Don't miss it!
Learn more about the early missions' influence on the settlement of the Willamette Valley:
Visit Salem's Willamette Heritage Center
So many activities to choose from
Ride Your Bike, Horse or Kayak
Hiking is an option, of course — but there's so much more to do at Willamette Mission! Walk your dog, ride your horse, or go birding. Picnic by day or camp by night. Or get wet! Swim, fish, kayak, or raft the Willamette. Play a round of disc golf. Or simply revel in the sense of history and beauty that permeates this unique, riverside eden.