Welcome to Salem
State Capitol State Park
A lesser-known state park, the grounds of the Oregon State Capitol offer a beautifully landscaped respite in the heart of Salem.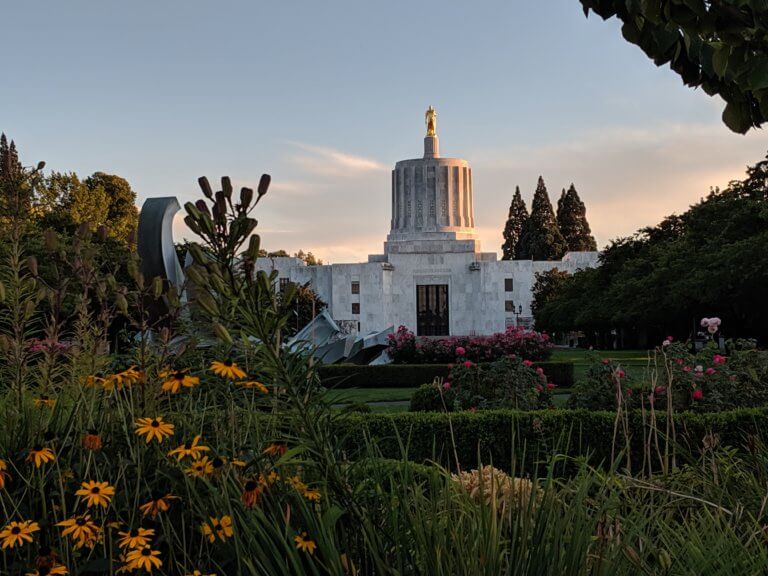 Yes, the Capitol Grounds Are a State Park!

When we think of Oregon's state park system, most of us will envision places of stunning natural scenery, miles of hiking trails, and landscapes that sweep toward the horizon. And while we're blessed with an abundance of such locations, Oregon State Parks include more than the iconic waterfalls, beaches and deserts that make Oregon special. One of our lesser-known state parks actually comprises the grounds of our state capitol building in Salem: State Capitol State Park.
So Much to See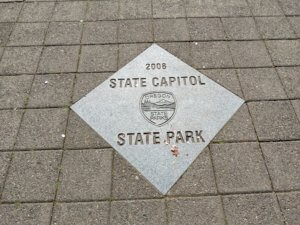 While much smaller and more manicured than many of its "wilder" siblings, State Capitol State Park offers a place of tranquility and beauty just as a state park should. It includes the Capitol Mall that lies in front of the capitol building itself, with cherry-lined walkways flanking either side. Willson Park, to the side of the capitol building, is also included in State Capitol State Park. Toured together, Willson Park and the Mall offer views of statuary and memorials, fountains, hundreds of native trees, and even columns salvaged from the previous Oregon State Capitol Building (which burned to the ground in 1935).
As Oregon State Parks celebrates its centennial year, we are pleased to continue to help support them with Oregon Lottery proceeds. When you play lottery games, your dollars help support all of the unique parks in our state park system!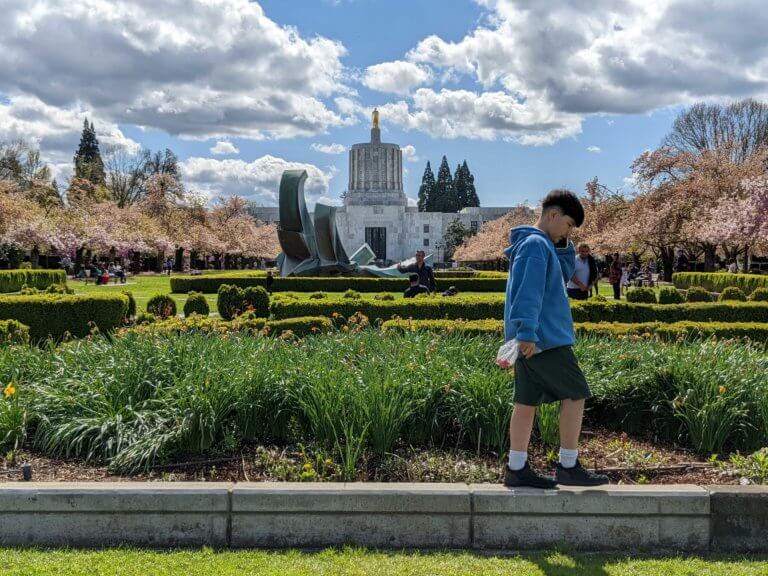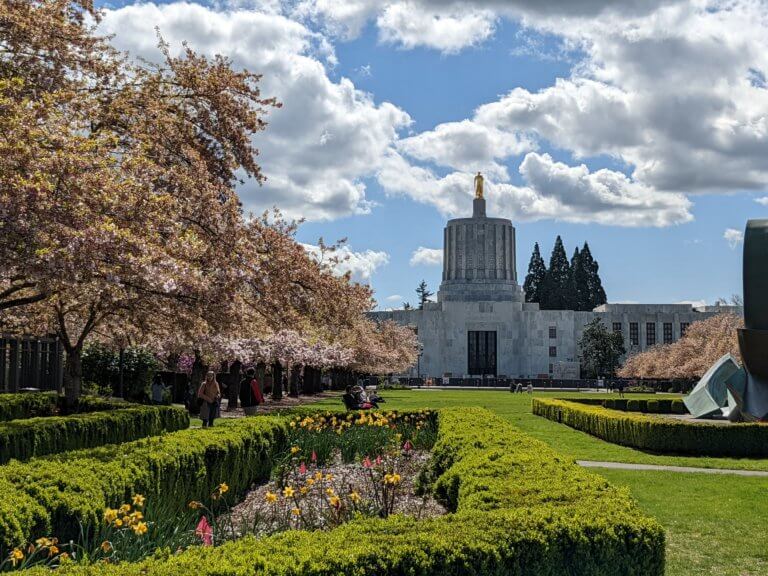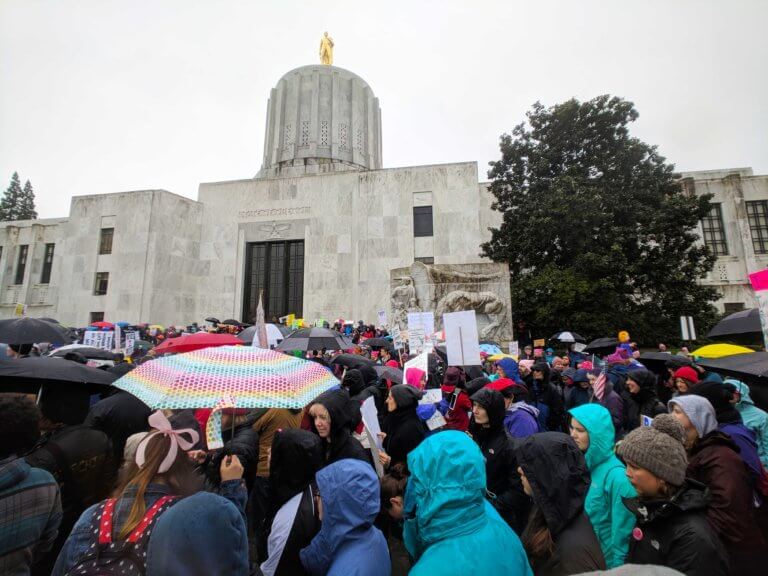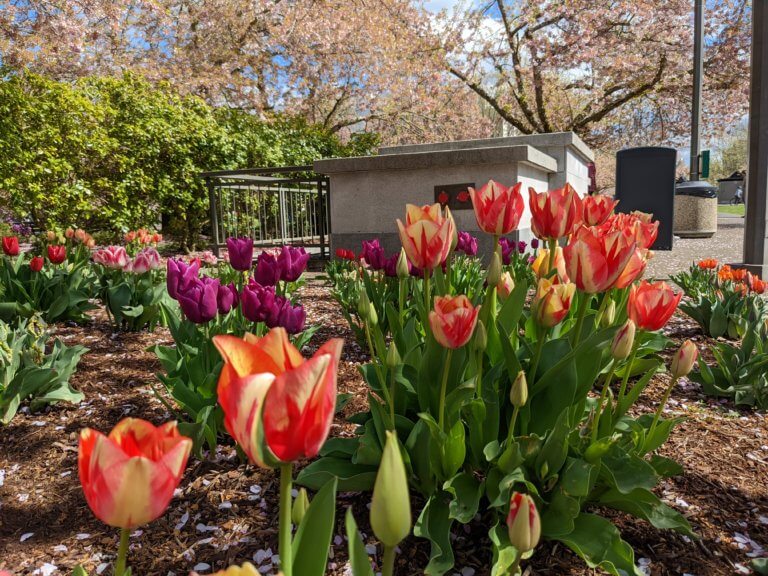 Salem's Living Room
Yes, a state capitol is often the site of demonstrations and protests, and the State Capitol in Salem sees its share of this type of activity. But for locals and visitors, it's so much more! On any given day, you might encounter kids throwing frisbees, couples in prom attire posing for photographs, or families coaxing squirrels to take peanuts right from their hands (not recommended, by the way—those squirrels have issues with their waistlines too!).
In any season, State Capitol State Park tempts visitors with manicured blooms and greenery. Tour the Capitol, explore the grounds, and make a day of it in Salem!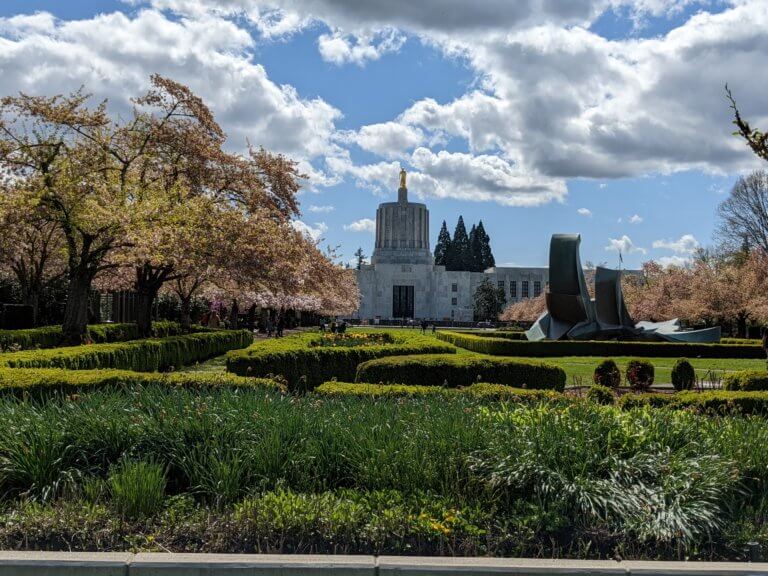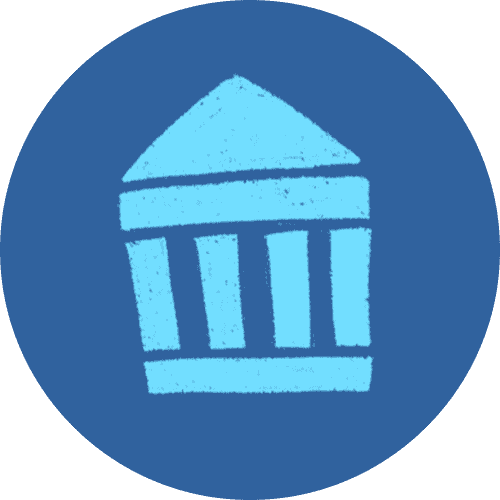 Our Capitol Buidling
Completed in 1938, the present Oregon State Capitol Building is actually our third. Both earlier versions were lost to fire. The white marble building features a flat-topped dome, thought to be almost too modern at the time. It provides the perfect pedestal, however, for the bronze statue on top. Formally known as "Oregon Pioneer," the statue is better known locally as the Gold Man because of his dazzling, gold-leaf finish.
When you come to Salem, consider touring the State Capitol. The tower tour will take you to the observation deck where you can fully appreciate the massive scale our 23-foot-tall Oregon Pioneer.
Tour Information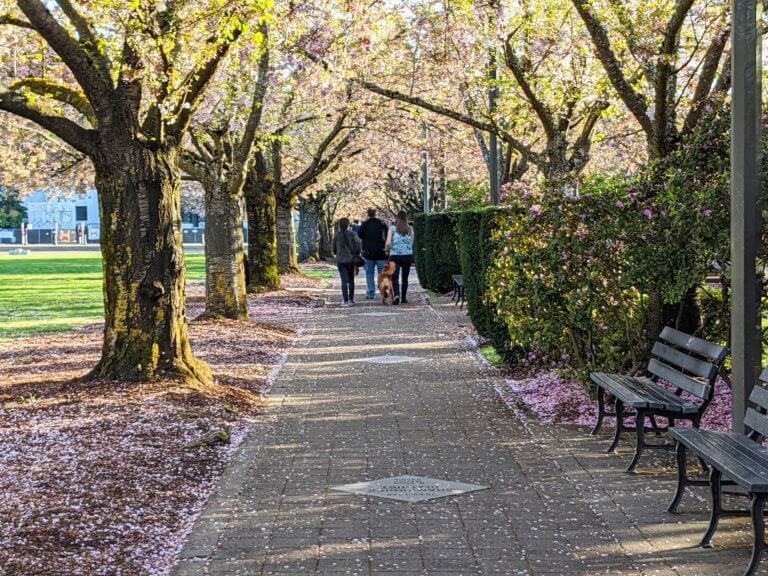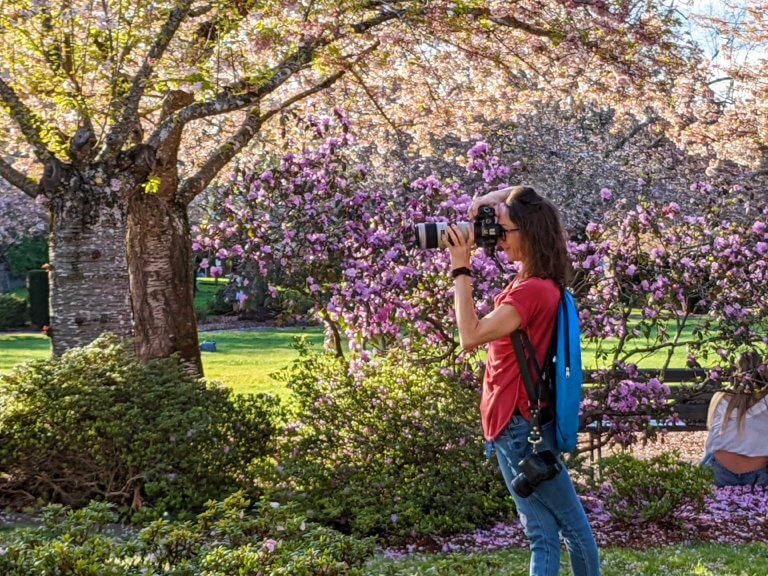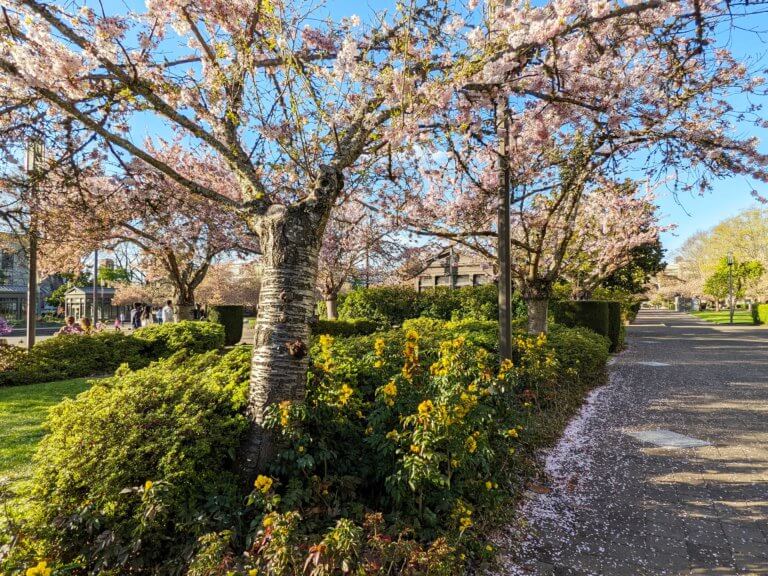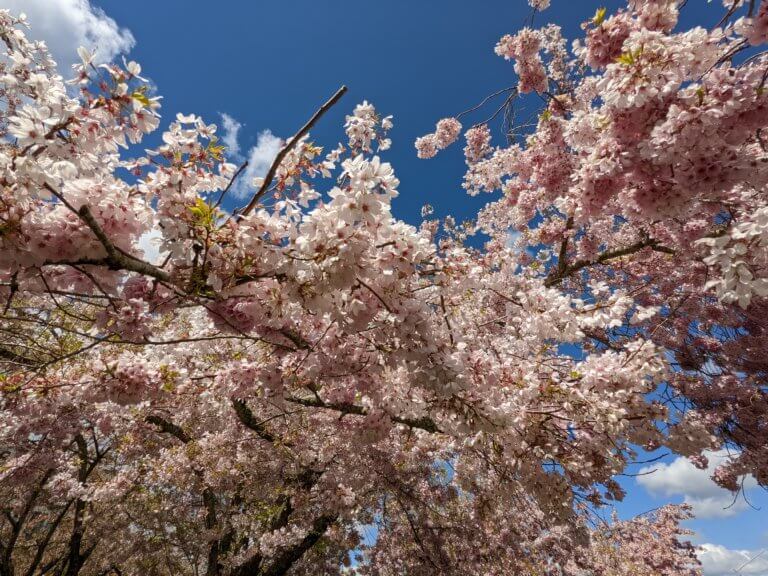 The Cherry City
Just as Portland has its Rose Festival, Salem used to celebrate its status as Oregon's Cherry City — with parades, princesses, and civic leaders who appointed themselves The Cherrians for the duration of the annual festivities. The Cherry Bud Band, Cherry Fair Baby Parade and Salem's first decorated auto parades were all the rage in the Capitol City at the turn of the last century. But while Portland's Rose Festival has continued to delight its citizens for decades, the Cherrians retired Salem's Cherry Fair by the 1950's.
See Historic Photos
Japanese Connections
It's not just the historic Cherry Fair that's been consigned to the past. Today, even many of the orchards in the Salem vicinity are gone, having given way to vineyards and wineries. But that doesn't mean Salem has fully ceded the title of "Cherry City." Today's celebrations, however, are less about agriculture and more about the city's ties with Japan, another culture that celebrates the significance of its cherry trees. These ties include Salem's Japanese sister city Kawagoe and, at home, the Tokyo International University (hosted at Salem's Willamette University). The cherry trees endure on the Oregon State Capitol grounds, tying Salem's local history to a more international and inclusive future.
Read about Salem's Cherry Blossom Day and the list of many Oregon and Japanese sponsors that make it possible: