Come Work for the Lottery team!
The Oregon Lottery offers a broad range of opportunities where you can demonstrate your talent, enthusiasm, ambition, and ingenuity. Most positions are located at our headquarters in Salem or the Wilsonville Payment Center, but we also have field representatives covering territories across the state. See what opportunities we might have for you!
What's it like to work at the Oregon Lottery?
You'll get asked every day if you have an edge or know the winning numbers (we don't). Truly, the short answer is, people like it here. The work contributes to a greater, fulfilling purpose, there is opportunity for advancement, a drive for innovation, wages are fair, the benefits are excellent and the culture is welcoming and productive. Our mission is to maximize profits commensurate with the public good. While that is a complex balance to strike, our team is dedicated and unified in that pursuit. When we say "Together, we do good things", that means our employees, players, retailers, vendors, voters and state government partners all collectively have a role in the good things created and generated by the Oregon Lottery. We are the stewards of our mission and are proud to do good things every single day.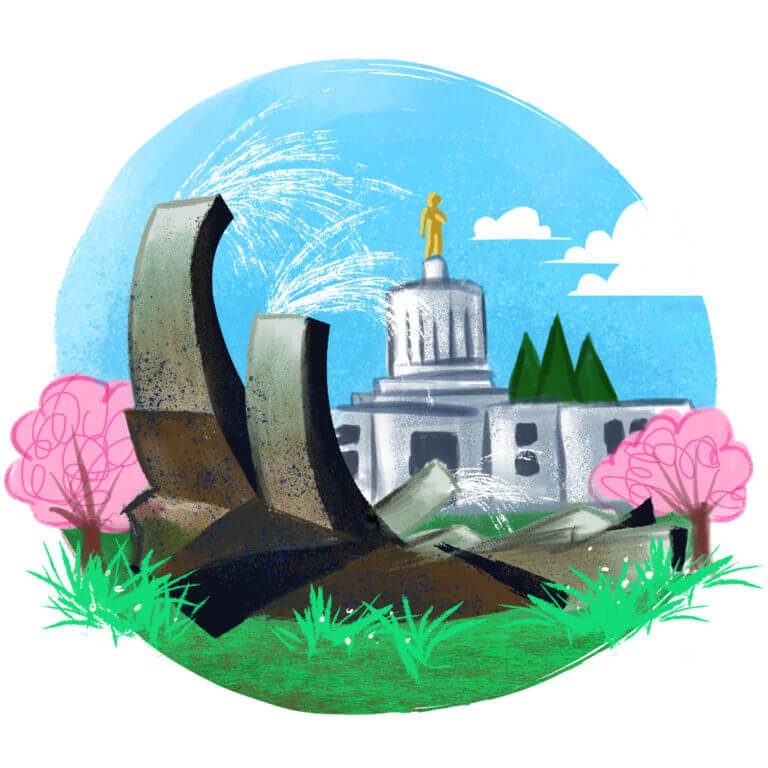 Beautiful Salem, Oregon
Our headquarters – and most lottery jobs – are located in Oregon's capital city. With a vibrant arts and cultural scene, Salem is a great place to both work and live.
Summary of Benefits
Looking for a job that offers a comprehensive benefits package for employees and eligible family members? Look no further than the Oregon Lottery.
You want coverage? We got coverage! Coverage is available for full-time and part-time permanent and limited duration employees and their families.
But wait! There's more! Employees have options when it comes to choosing a plan for core benefits, such as medical, dental, prescription, and vision, and will pay only 1% or 5% of the premiums. The Lottery also offers a variety of optional benefits, life insurance, flexible spending accounts, retirement plans, and paid leave options.
Our benefits are administered by the Public Employees Benefit Board (PEBB).
Check Out These Core Benefits
Options for medical care plans, including dental and vision
Prescription drug coverage
Basic Life insurance*
Surcharges may apply related to smoking and spouses not participating in their own insurance plans
How About These Optional Benefits
Group life insurance for employees, spouses, partners and dependents
Short and long term disability insurance
Accidental death & dismemberment insurance
Long term care insurance for employees and eligible family
Health Care and Dependent Day Care Flexible Spending accounts for pre-tax deductions
Commuter accounts for pre-tax deduction to pay for transportation
Even More Benefits
Beyond earning industry-standard salaries and working to serve a greater purpose, Oregon Lottery employees receive an exceptional range of additional benefits:
Comprehensive medical, dental, and vision plans for (part-time as well as full-time) employees and qualified family members, including $5,000 in basic life insurance
Generous paid leave including vacation, sick, personal business, 11 major holidays each year, and even volunteer leave
A work-life balance focus including remote, hybrid, and in-office positions
Employer-paid defined benefit and contribution programs managed through Public Employees Retirement System (PERS) as well as the option to enroll in the Oregon Savings Growth Plan, a deferred compensation program offering a wide variety of investment options
Access to an innovative Employee Assistance Program that offers work-life counseling along with homeowner, legal, and family resources.
Free premium subscription to the Calm app for Lottery employees and up to 5 friends or family members.
How to Apply
Visit the Oregon Lottery career center to view and apply for open positions. As a new user, you will be guided through building a profile, uploading your resume and other documents, and answering screening questions. If you are a returning user, be sure to update your application materials before applying. After application materials are submitted, you will receive an email confirmation from us.
If you are a person with a disability and need assistance with the application process, call 503-540-1315 or email oregon.lotterycareers@lottery.oregon.gov.
What to expect after applying
Throughout the recruitment process, we are committed to providing timely communication to candidates. Most of our communications, including invitations to interview will occur via email. Don't forget to check your email regularly, including your junk/spam folders.
You may also check your status at any time by logging in to the Career Center.
What Does the Application Process Look Like?
Your resume and screening questions will be reviewed by one of our recruiters to determine if you meet the recommended qualifications for the position.
Application materials for the selected candidates will be passed on to the Hiring Manager for review. The Hiring Manager will decide which candidates are most competitive and will move on to the phone interview phase.
Candidates who advance to the phone interview phase will receive an email invitation to self-schedule their interview time from a selection of time slots. Important: Candidates who do not schedule their interview times will not be considered further.
The phone interview is an opportunity for the recruiter to share information about the Lottery, our benefits, culture, and of course the position. We are interested in learning more about you, your experience, and interest in working for the Lottery.
After all phone interviews are completed, the recruiter will review the results with the Hiring Manager. The Hiring Manager will decide which candidates should move on to the in-person panel interview phase.
Candidates who are selected for the panel interview will receive an email invitation to self-schedule their interview time from a selection of time slots. As with the phone interviews, candidates who do not schedule their interview times will not be considered further.
The panel interview is an opportunity for you to meet the hiring manager and other team members in the organization. The interview phase will focus on the job and you will have time to ask more specific questions.
After all panel interviews are completed, the Hiring Manager and other panel members will review the results and determine which candidate(s) will be invited to complete the security background investigation process.
The Lottery is required by statute to complete an extensive security background check on all potential new hires. Once the background checks are complete we will work with the Hiring Manager to determine who will receive an offer of employment (Note: passing the security background check does not guarantee an offer of employment).
Offers of employment are made in compliance with the recently passed Pay Equity Bill (HB 2005). Consideration is given to the successful candidate's relevant education and experience as well as specialized training and any required certifications in comparison to current employees doing work of comparable character. Lottery will not ask you for your salary history in the course of this process. Offers will not exceed the maximum of the salary range posted for the recruitment.
Tips and Common Questions
No, you must apply for each position you are interested in.
Requests may be considered case-by-case in terms of business need and is normally negotiated with the immediate supervisor. The vast majority of Oregon Lottery employees are required to work a standard 5 day week, 8 hours per day.
No. In June 2017 Governor Brown signed into law House Bill 2005, also known as the Pay Equity Bill, expanding pay equity protections to all Oregon workers. Compensation will be determined by factors found in the law: seniority, experience, education, training, merit, work location, and travel requirements.
No, the Oregon Lottery does not offer visa sponsorships. Newly hired employees must provide evidence of their legal right to work in the United States within three days of appointment.
The circumstances related to a misdemeanor conviction are evaluated on a case-by-case basis.
No. By law, all felony convictions and gambling related convictions preclude you from employment with the Oregon Lottery.
The security background investigation includes checking items such as fingerprinting, any affiliations with the gaming industry, criminal history, federal and state income tax compliance, driving history, education verification, employment references and professional references.
The length of time for a security background investigation varies considerably at any given time. Typically, the investigation takes approximately two weeks to complete (sometimes longer). You may be able to expedite the processing of your security background investigation by providing as many details as possible when completing the background application and contacting your professional references to let them know to expect a call.
No. Once a candidate passes the background check, all of the information gathered during the recruitment process is considered before deciding to extend an offer to a candidate. Since multiple candidates may be considered for one position, passing the security background investigation is only one aspect of the process and does not guarantee employment.