Need A One-Size Fits All, Last-Minute Gift? Consider Oregon Lottery Scratch-it Tickets
December 19, 2022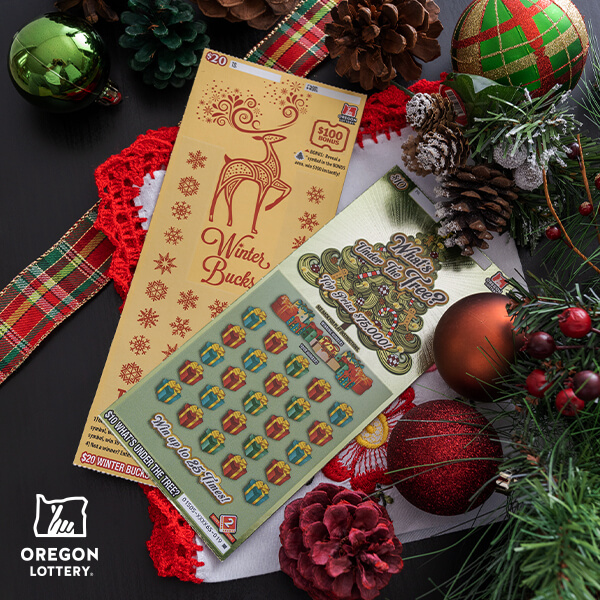 Salem, Ore. – Gifting procrastinators still have time to find something everyone appreciates. Oregon Lottery Scratch-it tickets are an easy-to-give, last-minute gift (no need to worry about choosing the right size or color) that can be found at many of the 3,800 Lottery retailers across Oregon.
But there is one important consideration – make sure the gift's recipient is at least 18 years old.
"Lottery tickets are not for kids," said Oregon Lottery Director Barry Pack. "Each holiday season, we appreciate that many of our tickets become stocking stuffers, gift tags and part of fun traditions. It's also an opportunity to remind our players that Oregon Lottery games are only for adults."
Throughout the holiday, the Oregon Lottery and lotteries worldwide are partnering with the National Council on Problem Gambling and the International Centre for Youth Gambling Problems and High-Risk Behaviors at Canada's McGill University to promote giving lottery tickets responsibly. The Oregon Lottery has been part of this annual campaign for over a decade. Oregon Lottery proceeds also provide funding for free, confidential, and effective problem gambling treatment programs statewide.
For adults picking up lottery scratch-its, prizes can range from a few dollars to $250,000. Last week, a Gresham resident won $150,000 playing the "Winter Bucks" Scratch-it. Holiday tickets this year feature five festive themes and start at $1 to purchase.
So far this year, Oregonians have spent more than $62 million on Scratch-its. After prizes are paid, revenue from ticket sales fund programs such as education, state parks, veteran services, outdoor school and more.
Since the Oregon Lottery began selling tickets on April 25, 1985, it has earned nearly $15 billion for economic development, public education, outdoor school, state parks, veteran services, and watershed enhancements. Since 1992, over $118 million in Lottery dollars has been directed to fund problem gambling treatment and awareness in Oregon. For more information on the Oregon Lottery visit www.oregonlottery.org.
Contact:
Melanie Mesaros
Oregon Lottery
971-719-0464
Melanie.Mesaros@lottery.oregon.gov