Sweet Home Man Wins "The Golden Ticket"
October 5, 2020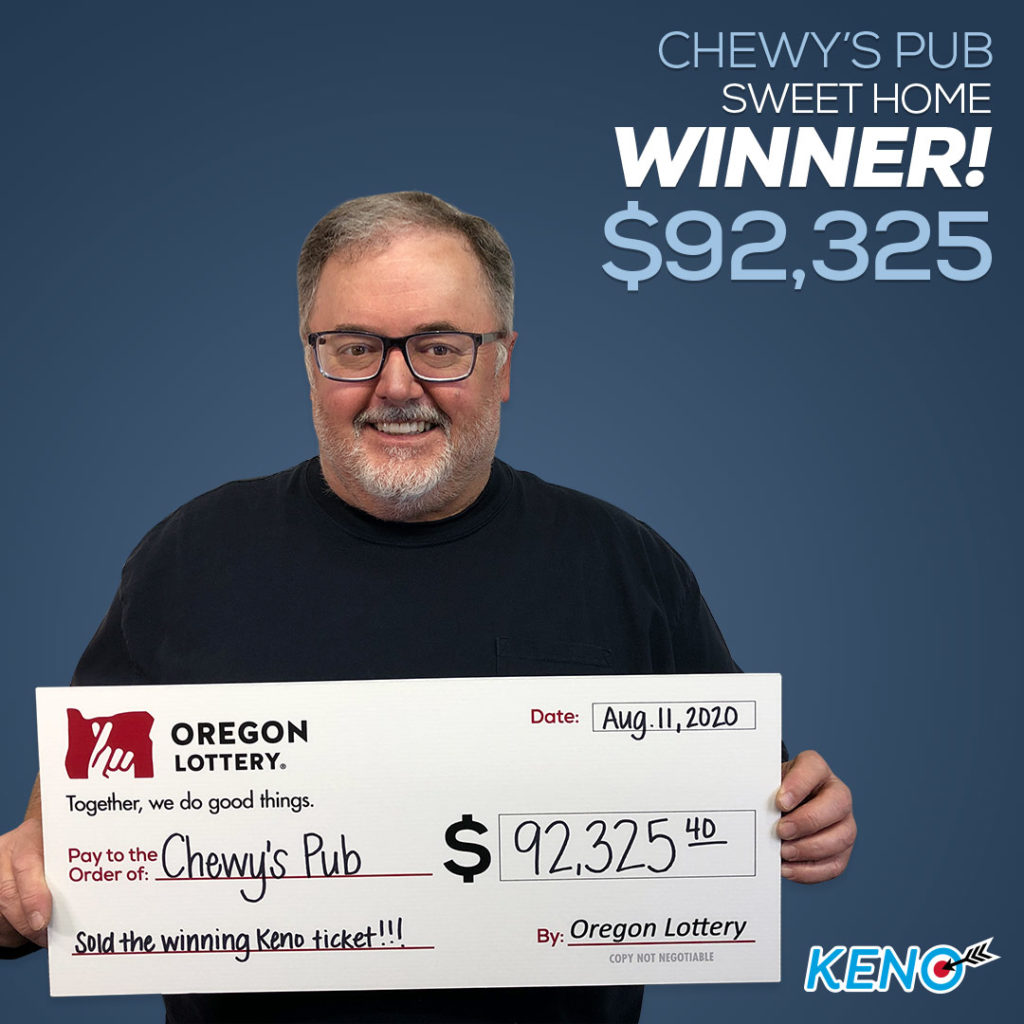 August 13, 2020 – Salem, Ore. – Thousands of times, James Ashcraft of Sweet Home has watched at his bar "Chewy's Pub" as people from around the state have hit Keno 8-spot jackpots.
This time, he's the one who hit a jackpot of just over $92,000.
Ashcraft has owned the bar for 18 years. He said that every now and then he will play Lottery games with customers or play when the jackpots get large.
"I figure if I spend $60 for the chance to win $60,000, that's a good bet," Ashcraft said. "This time it really paid off!"
Ashcraft said that Sunday he watched as the rolling Keno 8-spot bonus grew to more than $60,000 and decided to take a chance. He purchased $60 worth of tickets over the course of the day, and when he came in for his shift Monday, realized he had won.
"I felt like I had the gold ticket — and I really did!" he said.
Ashcraft had won not only the $25,000 Special Keno prize, but also the rolling 8-spot jackpot of $67,266 for a total of $92,325. Keno 8-spot has a rolling jackpot that grows with each game until it is hit.
Ashcraft claimed his prize after making an appointment with the Oregon Lottery.
To protect the health and safety of its employees and the public, the Oregon Lottery has temporarily closed the Salem and Wilsonville Lottery offices. Officials with the Lottery continue to monitor the COVID-19 situation closely. If players have a winning ticket up to $50,000, they can fill out a claim form on the Oregon Lottery website, https://oregonlottery.org/about/claim-prizes , and then mail in the signed ticket and claim form.
Players who have winning tickets of $50,000 or more will need to make an appointment to come to the Oregon Lottery office in Salem. Call 503-540-1000 for assistance. Players should always sign the back of their winning tickets. In the event of winning a jackpot, they should consult with a trusted financial planner or similar professional to develop a plan for their winnings.
Since 1985, Oregon Lottery players have won more than $38 billion in prizes.
Since the Oregon Lottery began selling tickets on April 25, 1985, it has earned more than $12 billion for economic development, public education, Outdoor School, state parks, Veterans services and watershed enhancements. For more information on the Oregon Lottery visit www.oregonlottery.org