Disruption in Weekly Routine Draws Win for Life Jackpot
May 21, 2020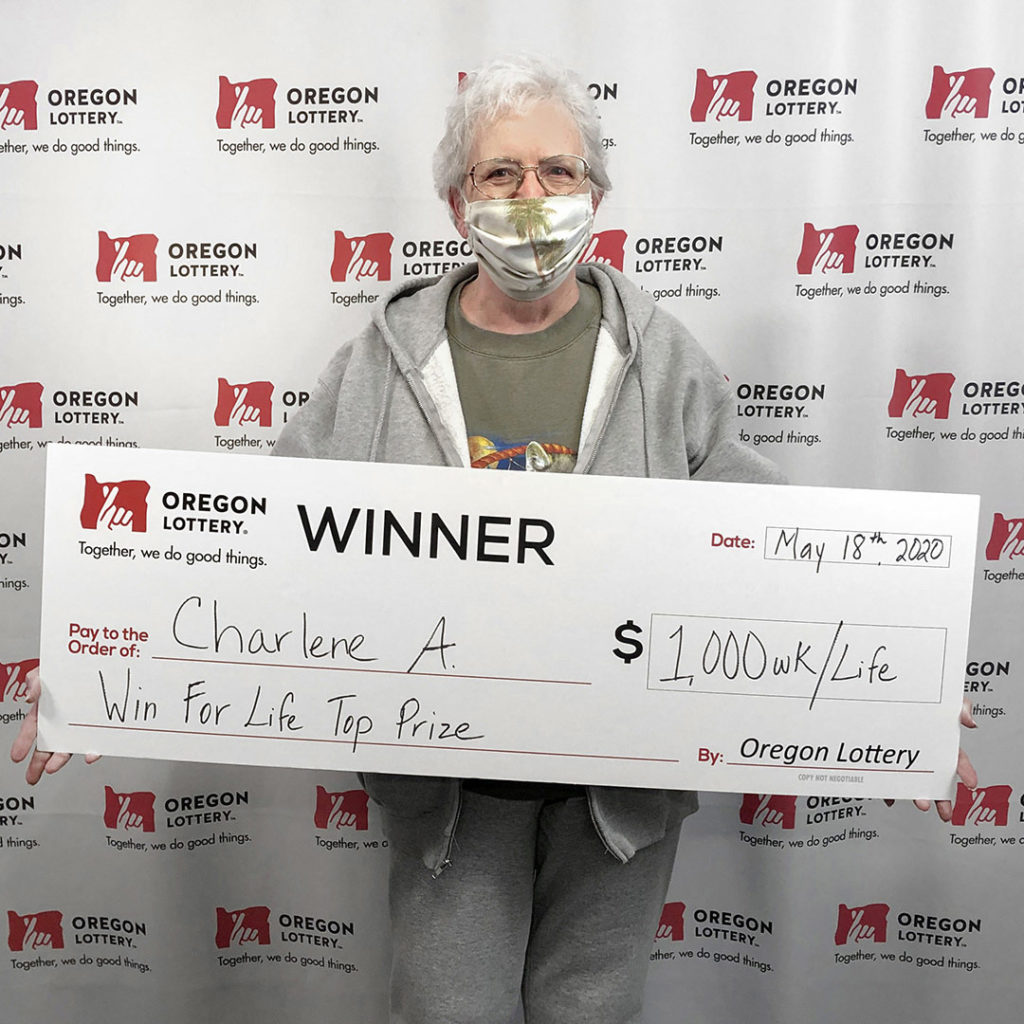 May 21, 2020 – Salem, Ore. – Charlene Ascher of Portland has a weekly routine. Each Sunday she purchases her Lottery tickets for the week at a local restaurant and then checks them as the drawings happen. With the recent business closures, Ascher had to purchase her weekly games at the convenience store down the street instead.
"If I would have skipped, I wouldn't have won Win for Life!" Ascher said. "I checked all my tickets during the week, and I always check Win for Life last because there are so many numbers. When I realized I won, I said 'Oh crap!'"
Ascher will now receive the Win for Life top prize of $1,000 a week for life, or in her case, $52,000 each year. However, she doesn't plan on making many changes to her life.
"I lost my sweetheart a year ago, and I traveled with him," she said. "I plan on staying home and working on my yard. It will be the best yard on the street."
Ascher said she had already scheduled some concrete work for her yard before winning the prize, and it was nice to know that it was paid for.
"I already splurged," she laughed.
Ascher purchased the winning ticket at the Food Fair Market in Southeast Portland. Food Fair Market will receive a retailer selling bonus of $13,000 for producing the winning ticket.
Ascher claimed her prize after making an appointment with the Oregon Lottery. The Oregon Lottery offices remain closed pending guidance from Gov. Kate Brown.
To protect the health and safety of its employees and the public, the Oregon Lottery has temporarily closed the Salem and Wilsonville Lottery offices. Officials with the Lottery continue to monitor the COVID-19 situation closely. If players have a winning ticket, they can fill out a claim form on the Oregon Lottery website's Claim a Prize page, and then mail in the signed ticket and claim form.
The Oregon Lottery reminds players to always sign the back of their Lottery tickets, regardless of the game. In the event of winning a jackpot, they should consult with a trusted financial planner or similar professional to develop a plan for their winnings. Prize winners of more than $50,000 are advised to contact the Lottery office, at 503-540-100 to schedule an appointment to claim their prize in Salem.
Oregon Lottery players have won more than $38 billion in prizes since the Lottery began selling tickets in 1985
Since the Oregon Lottery began selling tickets on April 25, 1985, it has earned more than $12 billion for economic development, public education, Outdoor School, state parks, Veterans services and watershed enhancements. For more information on the Oregon Lottery visit www.oregonlottery.org