Lottery Dreams Become Reality with $50,000 Scratch-it Win
May 28, 2020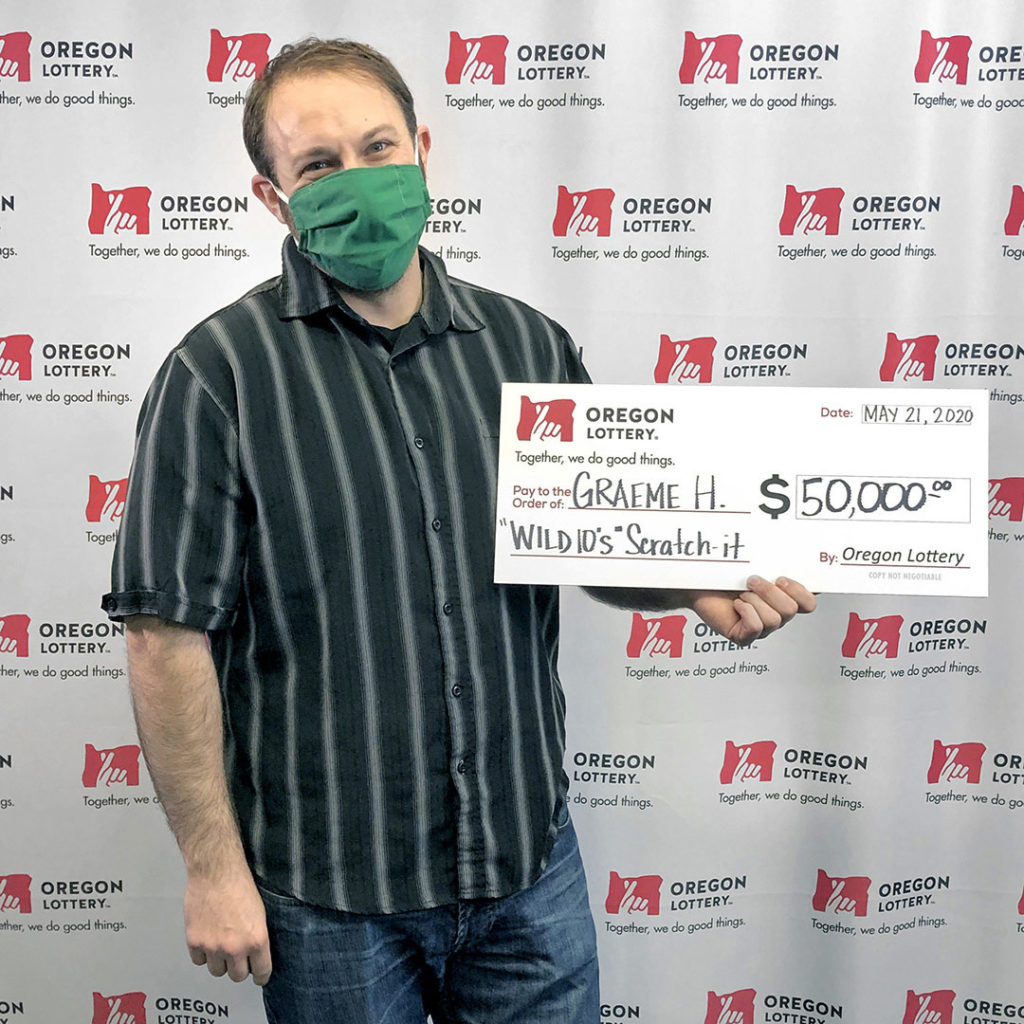 May 28, 2020 – Salem, Ore. – A Beaverton man said that with his $50,000 Oregon Lottery Scratch-it win, he is going to buy his first new-to-him car.
"I have always gotten hand-me-down cars," Graeme (pronounced Graham) Huguenot said when he claimed his prize. "I'm not going to get a new car, but I am going to get a car that I choose."
Huguenot was on his way home from work when he stopped off at the Plaid Pantry on Cedar Hills Boulevard in Beaverton to get something to drink and the $5 Wild 10s Scratch-its caught his eye.
"We normally play on special occasions," he said. "Birthdays, Christmas, family gathers, things like that. So I normally don't play, now I'm glad I bought them!"
When Huguenot told his wife and then used the Oregon Lottery's mobile app to show her he'd won, he said the whole family was in "complete shock."
"We have a big backyard so I am going to also get a play structure for my two daughters," he said. "You always dream about what you would do if you won the Lottery, now we can actually put some of those dreams into reality!"
To protect the health and safety of its employees and the public, the Oregon Lottery has temporarily closed the Salem and Wilsonville Lottery offices. Officials with the Lottery continue to monitor the COVID-19 situation closely. If players have a winning ticket, they can fill out a claim form on the Oregon Lottery website and then mail in the signed ticket and claim form.
Players who have winning tickets of $50,000 or more, will need to make an appointment to come to the Oregon Lottery office in Salem. Call 503-540-1000 for assistance. As always, players should be certain to sign the back of their tickets.
Since 1985, Oregon Lottery players have won more than $38 billion in prizes.
The Oregon Lottery reminds players to always sign the back of their Lottery tickets, regardless of the game. In the event of winning a jackpot, they should consult with a trusted financial planner or similar professional to develop a plan for their winnings.
Since the Oregon Lottery began selling tickets on April 25, 1985, it has earned more than $12 billion for economic development, public education, Outdoor School, state parks, Veterans services and watershed enhancements. For more information on the Oregon Lottery visit www.oregonlottery.org