The Oregon Lottery is working to keep retailers informed and to provide resources as state guidance changes. We know keeping up with evolving guidelines can be challenging. Thank you for taking the necessary steps to ensure your staff's and customers' safety.
Please monitor your retailer emails and this page for updated information. For additional support, contact your field sales representative or call Customer Service at 1-800-766-6789. Please see the Governor's Office Guidance for additional information about Oregon's current guidelines.
Caring for Customers During Covid
Reopening Best Practices
As Video Lottery retailers are allowed to reopen, we will continue to communicate updated best practices and resources.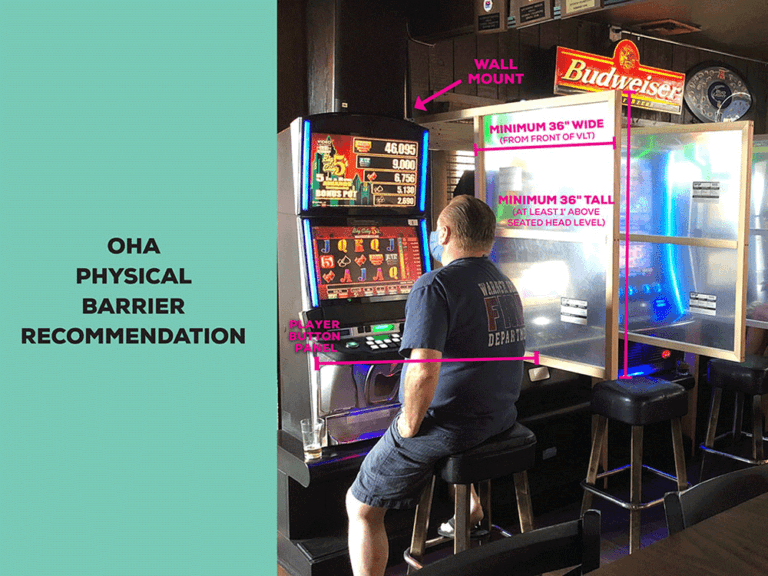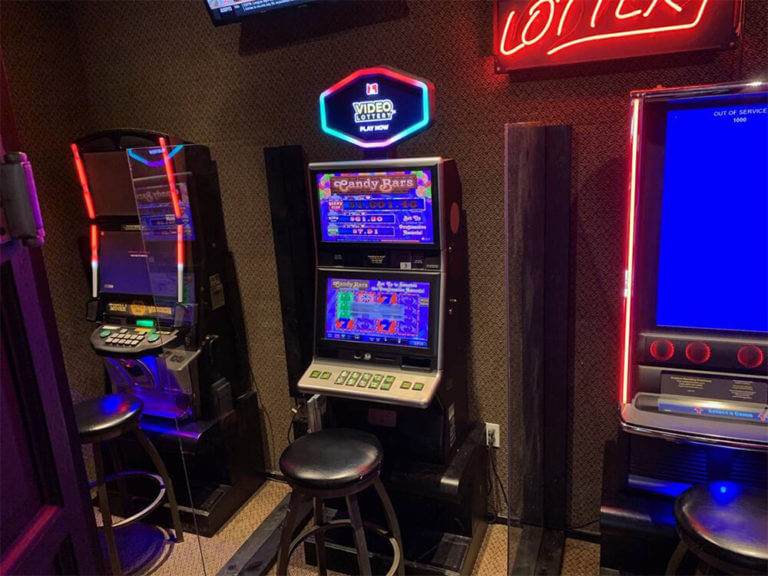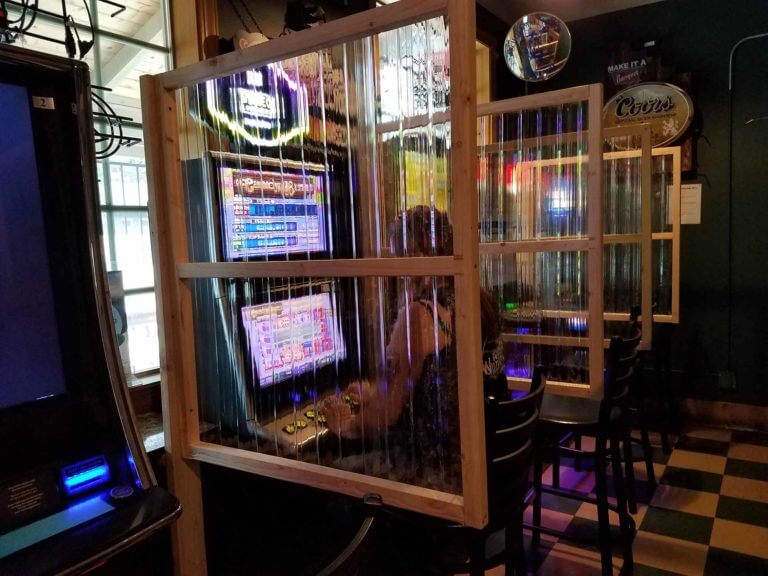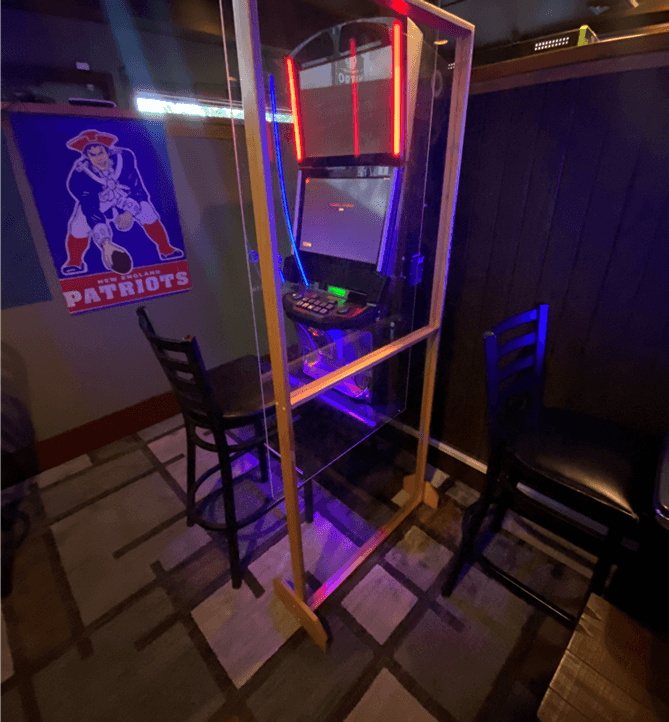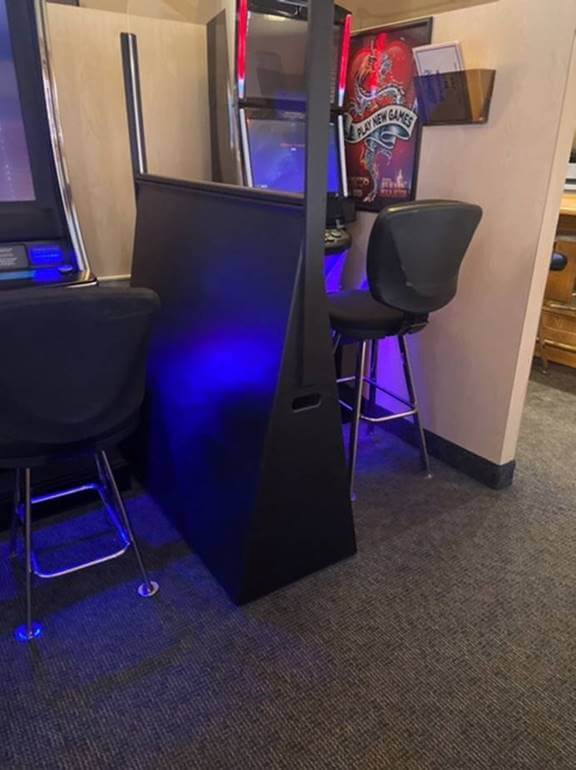 Approved Physical Barriers
Minimum 36″ wide (from front of VLT)
Minimum 36″ tall (at least 1′ above seated head level)
Securely mounted
Barrier use is not permitted in counties designated at "Extreme Risk" for Covid Infections
Now Open banner
4'x3′ banner
PDF template may be sent to any local vinyl banner shop
English | Spanish
Welcome Back directions to players
11″x17″ (tabloid size)
English | Spanish
Welcome Back directions to players (Video Lottery only)
11″x17″ (tabloid size)
English | Spanish
Practice Physical Distancing
8.5″x11″ (letter size)
English | Spanish | Chinese
Video Lottery Machine is Ready
8.5″x11″ (letter size)
To be placed on VLTs to designate machine has been cleaned between players
English | Spanish | Chinese
Video Lottery Machine is Unavailable
8.5″x11″ (letter size)
To be placed on VLTs that are turned off or awaiting cleaning
English
Winner Claims instructions
8.5″x11″ (letter size)
May be placed in "winners' frame"
English | Spanish
Video Lottery FAQs
Retailers should keep physical barriers in place and VLT spacing as not all players will be vaccinated and VLT play should be made available to all players regardless of vaccination status. Retailers choosing to remove physical barriers may have VLTs approved for barrier use disabled by Oregon Lottery. Additional guidance may be forthcoming.
Retailers must continue to clean and disable VLTs between play at this time. Additional guidance may be forthcoming.
VLTs that do not meet the distancing or barrier guidelines will remain disabled. Retailers choosing to install barriers will still be required to go through the physical barrier approval process. Additional guidance may be forthcoming.
Fully vaccinated individuals do not need to wear a mask while playing. Individuals who are not fully vaccinated must wear a mask while playing unless actively eating or drinking.
Two weeks after an individual has received their 2nd dose of either the Pfizer or Moderna vaccine shot OR two weeks after an individual has received their one-dose Johnson & Johnson vaccine shot.
Retailer does not have to post a doorperson, but customer must wear a mask in the establishment until an employee verifies their vaccination mask exemption.
Retailers are encouraged to keep current access to VLTs in place. Additional guidance may be forthcoming.
Fully vaccinated individuals may engage in VLT play with another fully vaccinated individual and not be subject to physical distancing guidelines. VLT play for individuals not fully vaccinated are limited to one player per VLT.
No. Unfortunately, there are no plans or funds in place to compensate lost revenue during this unprecedented suspension of play, either for retailers or the Lottery itself.
With the disabling of VLTs (Video Lottery Terminals) at retail establishments across the state based on the Governor's executive order, Oregon Lottery has suspended the adding and removing of VLTs based on retailer sales performance until further notice.
This pause will allow Oregon Lottery to introduce a new way of looking at VLT performance. When the 2020 contract began on June 28, 2020, Oregon Lottery video retailers moved to a commission structure based on dollars played. To better align equipment management decisions to this model, Oregon Lottery has developed and distributed new thresholds for equipment management at retail. Field Sales Representatives have been and will continue to be in contact with retailers to explain the new equipment management policy.
Yes, there are several reasons why VLTs should remain powered up including important security reasons. Oregon Lottery's central video gaming system needs to communicate digitally with all lottery equipment on an ongoing basis. Turning the power off prevents this communication and our ability to monitor security risks. It also prevents us from performing software updates and installation of new games.
Once the current situation resolves, terminals that have not been powered will require hard reboots from a powered-off state. This can cause problems with many terminals including touch screen calibration changes and burnt out fuses. Ordinarily these are issues that a Lottery field technician can remedy quickly. However, when we re-enable the entire state, our field technicians will be understandably busy and may not be available for immediate assistance. Keeping the terminals powered now helps ensure you'll be back to normal business as soon as possible after Video Lottery is re-enabled.
Read the "Power On" Information you received from the Lottery.
General FAQs
For now, any prize under $50,000 should be claimed by mail. For prizes $50,000 or more, players should call the Oregon Lottery at 503-540-1000 to make an appointment to claim their prize at the Salem office. As always, players should be certain to sign the back of their tickets.
Yes. Our Gaming Operations department plans to continue service at retail locations still selling Lottery products.
Yes, the letter and contracts will have to be signed after the fact. That would delay a retailer getting their approval letter, copy of the contract and certificate of authority. Nichole Applebee at 503-509-3520 can answer questions related to this.
Governor Brown recently launched a Coronavirus Small Business Resource Navigator to help connect small businesses to financial support that might be available to them during these challenging times. Please visit www.oregon4biz.com for more information. Additionally, you may contact your congressional representatives for assistance navigating the many changes at the federal level. Visit house.gov/representatives/find-your-representative to find contact information.